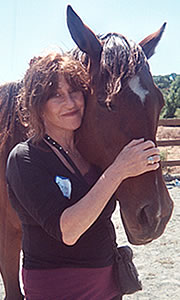 Penny Kreitzer was born in South Africa and studied Theatre, English and Political Science at the University of Cape Town, The Hebrew University in Jerusalem and S. F. State University.  She has an MA in Theatre and a Licentiate Speech Teacher's Diploma from Trinity College, London.
Her experience in High Impact Communication Skills for Leaders, covers Fortune 500 companies, training sessions in Europe, South Africa and the Middle East, as well as workshops throughout the USA. She is faculty at the UC Berkeley, Haas School of Business and has served on the faculty of The Athena Women's Leadership Institute at Barnard College in New York as well as many others academic institutions.  She has presented at the Haas School of Business Alumni Reunion, Yale University Learning Center Conference and Eli Lilly International Conference for Women Physicians.  A new endeavor is working with horses in equine assisted training.
Faculty Positions:
Haas School of Business, UC Berkeley
Olin School of Business, Washington University
Weatherspoon School of Business, Chase Western University
The Athena Women's Leadership Lab, Barnard College
The Berlin School of Creative Leadership
The Executive Coach Training Institute, UC Berkeley
University of San Francisco
Columbia University
Vassar College
Suny Purchase, New York
The HB Studio Theater Training School, New York
American Conservatory Theater, San Francisco
Lesley University, Cambridge Ma, and Netanya, Israel
Theater Background:
As a professional, award-winning actress, Ms Kreitzer has performed at The Berkeley Repertory Theater, American Conservatory Theater, The Aurora Theater, Gloucester Stage Company, Shakespeare & Company, The HB Studio. Since 1974, she has been a member of the Roy Hart Theatre, France. She created and performed 16 characters in "The Actors Rehearse the Story of Charlotte Salomon."
Ms Kreitzer has been Voice and Dialogue Coach on Academy Award nominated documentaries "Promises" and "Regret to Inform" and for award-winning actress/playwrights Anna Deveare Smith ("Fires in the Mirror" Berkeley Repertory Theater),and Ellen McLauglin ("Angels in America" Mark Taper Forum).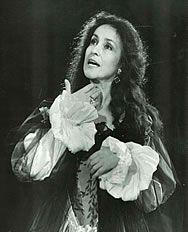 Olivia in "Twelfth Night"
[wpcol_divider]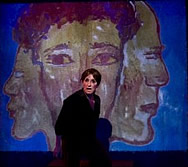 Charlotte in "The Actors Rehearse the Story of Charlotte Salomon"
"This is wonderful, thought-provoking theater  meticulously crafted and presented by a fearsomely talented and engaging actress. Kreitzer gives ample sampling of her own lovely contralto singing voice. We also listen and watch as she gives voice to a total of sixteen characters on stage – male and female, old and young, from different ethnic and linguistic backgrounds." — Reviewed by Gail M. Burns, June 2009